SOVEREIGN DOUBLE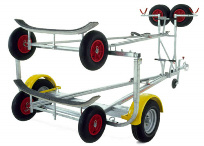 Based on a conventional combi, the big advantage with this unit is that it can be used as a double and a single.
So if a double is only required occasionally, it takes between 15/20 minutes to dismantle.
We can supply as illustrated with two bars, or with a fitted second trolley.
This unit is particularly popular with sailors travelling across Europe. Supplied as standard with radial 145R 10 tyres, independant suspension, and an AL-KO lockable coupling.
Price on application.
All trailers come complete with
(1)…Mast support with nylon strap to stop mast damage, and elastic tie down
(2)…Safety lock coupling with option for key lock
(3)…Fully galvanised
(4)…Safety chain/wire
(5)… VIN number and identification plate
(6)… Trailer to trolley lock on system with extra safety pin
(7)…Jockey wheel on trailer
(8)…Forefoot support either rubber or foam
(9)…Front facing light and side reflectors
(10)…Fully enclosed mudguard system and mudflaps
(11)… Independant rubber suspension units
(12)…145R10 hi-speed wheels and tapered bearings
(13)…Tie down eyes and lighting board connect point
(14)… Fitted cradle chock to suit individual dinghy classes
(15)… Lighting board fitted and tested
Optional Extras
(1)…..Aluminium trolley in lieu plus £50.00
(2)…..Astro turf cradle (epoxy hulls) plus £30.00
(3)…..Reg. number plate £15.00
(4)…..Coupling lock N/A
(5)…..Rear mast support/lighting board bracket £50.00
(6)…..Spare wheel 145r10 £65.00
(7)….Trailer straps £20.00 each