SOVEREIGN 'WAYFARER' RANGE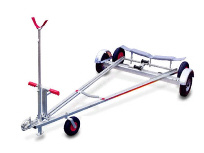 The Sovereign 'Wayfarer' combi really can be loaded single handed!
The swinging double roller on the axle supports the hull, and the side rollers ease the trolley into position as the boat slides on. The equipment level includes a cradle moulded glass fibre chock which fits Mk1 and Mk2 hulls. There is a jockey wheel take off on the trailer and the trolley. Double sealed hubs are supplied as standard.
All trailers come complete with
(1)…Mast support with nylon strap to stop mast damage, and elastic tie down
(2)…Safety lock coupling with option for key lock
(3)…Fully galvanised
(4)…Safety chain/wire
(5)… VIN number and identification plate
(6)… Trailer to trolley lock on system with extra safety pin
(7)…Jockey wheel attachment point on trailer and trolley
(8)…Forefoot support either rubber or foam
(9)…Front  and side reflectors
(10)…Fully enclosed mudguard system and mudflaps
(11)… Independant rubber suspension units
(12)…400×8 or 145R10 hi-speed wheels and tapered bearings
(13)…Tie down eyes and lighting board connect point
(14)… Fitted cradle chock to suit individual dinghy classes
(15)… Lighting board fitted and tested….
(16)… Double trailer/trolley rollers for easy load
Optional Extras
(1)…..Astro turf cradle (epoxy hulls) plus £30.00
(2)…..Reg. number plate £15.00
(3)…..Standard Jockey wheel £50.00
(4)…..Jockey wheel with handle £65.00
(5)…..Coupling lock N/A
(6)…..Rear mast support/lighting board bracket £50.00
(7)…..Spare wheel 400×8 6ply £49.00
(8)…..Spare wheel 145r10 £65.00
(9)….Extra long mast support Plus £10.00
(10)….Trailer straps £20.00