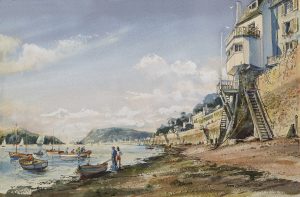 Today was David Little's Funeral, he lived to 101 and was a true gentleman, I was lucky enough to be given the opportunity to speak and tell the story of David's live as a Merlin sailor.  Although he ran his own business he was always willing to come and support us at exhibitions and promote sailing, a sport he loved
This painting by John Canning was given to David who was  the helm of our launch at Salcombe Merlin Week as a gift for all of his efforts.
His thirst for life and resilience were just two reasons he lived such a long, happy, and successful life!
He will be sadly missed.