How much does a spare wheel cost!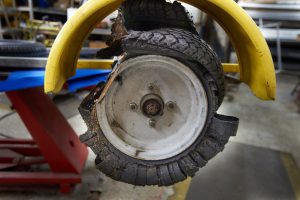 Well in this case a lack of spare wheel  cost £360, when a customer tried to get to his destination (3 miles) on a flat, basically it destroyed the tyre and rim initially, then the hub and suspension and finally the trolley wheel.
It is very important to have a spare, but to change a wheel unaided you will also need a jack and spanner.
Spare wheels start from £35 to £50 for the two most popular sizes, a jack and spanner say £25.
It is well worth being prepared!