Absolutely the last one off Job!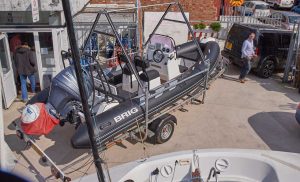 At the beginning of this year we decided not to manufacture any more one off jobs, they are never profitable, generally take longer than you expect and it is difficult to get them right first time. With the onset of type approval and product conformity, it is always a good idea to stick to what you know.
Within a day of this decision Jamie Mears telephoned asking  can we make an upper deck to carry two Optimists initially and then possibly some Toppers on his Rib trailer. The problem is that Jamie and Stewart have been customers ever since we started  manufacturing trailers, so we could not possibly refuse.
So this image is of the last ever one off job, until of course the next one comes along!
Good luck with Duty man Hannah!